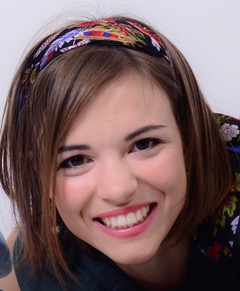 email: agui01@mail.bbk.ac.uk
After working for five years as a child therapist with young children with neurological and sensorial problems in rehabilitation centre in Padova (Italy), Anna realised she needed to know more about genetic and environmental factors underlying individual differences in neurodevelopment. During her MSc in Cognitive Neuroscience, she had the opportunity to conduct behavioural and neuroimaging research with children at the Center for Mind/Brain Sciences (CIMeC) in Trento, Universite' Paris Descartes and Donders Institute in Nijmegen. These experiences motivated her to pursue a PhD in Psychology at Birkbeck College as part of the Brainview multidisciplinary European Training Network, under the supervision of Prof. M. Johnson, Prof. E. Jones and Dr. E. Meaburn.
During her PhD, Anna collected DNA and behavioural data from family members of the children who participated in the British Autism Study of Infant Siblings (https://www.staars.org/gbasis), in order to study neural, genetic and epigenetic signatures of behavioural differences in social attention. In collaborative projects with the Geschwind Lab at UCLA, the developing Human Connectome Project team at King's College London, and as a member of the GEL lab Anna is now further exploring how genetic liability for psychopathology is linked to developmental trajectory of adaptive and cognitive behaviour and attention profiles, respectively.
Anna is currently a post-doctoral researcher at the Centre for Brain and Cognitive Behaviour (Birkbeck) and King's College London, where she is coordinating the Behaviour and Online Neuroimaging to study the Development of Socialisation (BONDS) and Transformative Approach with Babies in the Scanner (TABS) studies funded by the Economic and Social Research Council (PIs: Prof. E. Jones, Prof. F. Dick, Prof. R. Leech).
Funding
Birkbeck Wellcome Trust Institutional Strategic Support Fund (ISSF) for PhD students completing their thesis (3-month salary + £1,205 for research). 2019
Marie Sklodowksa-Curie Innovative Training Network (European PhD fellowship). 2015 – 2019
Merit Award, University of Trento (scholarship for MSc high grades, €1,600). 2015
Erasmus + Mobilità per Studio (European mobility scholarship). 2015
Centre National de la Recherche Scientifique (French stage scholarship). 2014
Opera Universitaria Stage (Italian stage scholarship). 2014
LLP/ Erasmus Placement (European mobility scholarship). 2014
Training
BSc in Neurological and Psychomotor Approach Therapy (First), University of Padova, Italy (2008).
First level Italian MSc in Child Rehabilitation and Research Methodology (Distinction), University of Modena and Reggio Emilia, Italy (2013).
MSc in Cognitive Neuroscience (Distinction), University of Trento, Italy (2015).
PhD in Psychology, Birkbeck College, University of London (2019).