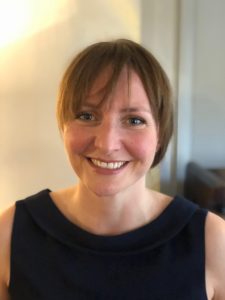 twitter: @emma_meaburn
Dr Emma Meaburn is a behaviour geneticist based at the Centre for Brain and Cognitive Development, embedded within the Department of Psychological Sciences at Birkbeck. In 2019 she joined forces with Prof Angelica Ronald to co-direct the GEL lab, and is the co-director and founder of the BRIDGE Lab (a bio-banking and wet lab). She is also a member of the Centre for Educational Neuroscience, a joint venture between Birkbeck, UCL and the IOE.

Dr Meaburn obtained a BSc (Hons) in Human Biology at King's College London in 1999, which sparked an interest in the genetic basis of human behaviour. She went on to complete an MSc in Human Molecular Genetics from Imperial College London in 2000 and joined the Twins Early Development Study (TEDS) at the Institute of Psychiatry, King's College London in 2000 as a research assistant. This led to a PhD in Behavioural Genetics under the supervision of Professor Robert Plomin and several enjoyable years as a TEDS postdoc, where she led the molecular genetic research efforts into the identification of genetic variants associated with individual differences in reading and cognitive abilities. In 2010, she was appointed as a Lecturer at Birkbeck, University of London, and Senior Lecturer in 2016. In 2019 she joined forces with Prof Angelica Ronald, and she was recently (2020) appointed Reader in Human Genetics and Genomics.
Funding:
Dr Meaburn has received research funding from the following research bodies and charities: the Bloomsbury Colleges consortium, the Economic and Social Research Council, the British Academy, the Royal Society, Birkbeck's Faculty of Science, Birkbeck Wellcome Trust Institutional Strategic Support fund (ISSF), and the Simons Foundation Autism Research Initiative.
Training:
Human Biology (BSc Hons), King's College London (1999)
Human Molecular Genetics (MSc), Imperial College (2000)
PhD in Molecular and Behavioural Genetics, King's College London (2006)
Publications:
Please visit Dr Meaburn's Birkbeck webpage for a full list of her publications